The two founders of BrightBiz, Philippe Szombat and Pascal Pytel had decided to attend a conference organized by the "real" "Wolf of Wall Street" at RAI in Amsterdam, Jordan Belfort personally. He uses to give numerous sales conferences and sales training sessions around the world.
The book he wrote in prison and especially the film with Leonardo DiCaprio, made Jordan Belfort famous internationally, despite his troubles with the law and the many people he ruined. In fact, he still needs to repay 50% of his income to his victims, to whom he still owes 97 million USD.
His lecture lasted nearly six hours. It is clear, Jordan Belfort is an outstanding salesman, the type of sales person you cannot miss. He is charismatic, self-confident, and with a great look.
Jordan is a true sales enthusiast like Pascal and Philippe. He talks about it the way he breathes. He shared a story about his life and also several tips on sales. We were surrounded by nearly 1,500 other sales enthusiasts. We all watched the wolf talk on stage.
It is always interesting to see how other sales gurus focus on one or the other aspect of sales. The angle that a sales trainer can take on a specific point may be different and at the same time it remains interesting.
Here are the Top 3 tips that Jordan Belfort gave us
The 1st Tip: Motivation, self-confidence and sales culture
When Jordan Belfort was selling ice cream on the beach, it was because he was passionate about selling. For him, at the time his greatest motivation was "money."
He basically wanted to have a lot of money, and become rich. Everyone has to find their own motivation, that's for sure.
You must have to live the sales. This is what BrightBiz calls the "sales culture".
A salesperson must have self-confidence and the motivation to sell.
He also needs to be constantly organized in order to be more effective.
Finally, he must have a healthy sales activity. He needs to prospect on a daily basis, meet his clients and and be able to close new deals.
Of course, you have to sell ethically. Your motivation must not become an obsession, otherwise, like Jordan, you risk falling into excess and losing your mind.
The 2nd Tip: Customer Trust
When you contact a prospect by phone, it is essential that within the first 3 minutes, you will be able to catch the interest of your client and hang him. You have to give him full confidence and this is the basis of any commercial relationship.
Here are the 3 things you can trust:
Yourself : In order to do this, the tone of the voice is essential. Don't be too "excited" on the phone and make you feel like you want to sell. You need to show a certain serenity, a soothing assurance and let the voice caress the customer's ear. You have to be reassuring, and at the same time credible. This applies to simply make an appointment with your prospect, but also to sell over the phone. Jordan also showed us a scene of the movie "The Wolf of Wall Street" (you can watch again the exact scene he showed us, in Netflix here). Jordan is calling a prospect to sell him penny stocks in the new company « Robert Mancuso Accounting » that recruited him after losing his job on Wall Street.  In this scene, he shows to his new colleagues how to sell. Watch this episode carefully and listen to the tone of his voice. You'll have a better understanding of how to use the tone of your voice correctly and to give more confidence to your prospects.
Your company : It is important that you present your company as a serious company, already having a certain existence and also reputable clients. Your client will not be interested to buy from a company that attracts little trust. It makes sense. You have more confidence to work with a company that has big clients like "Obama" or "NASA" among its clients than a company with few or no customer
Your solution : Your product must interest your prospect, have an undeniable added value in the eyes of your prospect and also have the least risk. The customer will then feel more confident in your solution and will buy it much more easily.
         "The first 3 minutes of your call are crucial to catch your customer's trust."
Jordan Belfort
Let's not forget that in the Maslov scale, security is in 2nd position.
The 3rd Tip: Don't Be A Wolf!
This third piece of advice is not actually a direct advice from Jordan Belfort, but an advice that we perceived during the conference.
By dint of wanting more and having excessive ambitions, you may become a wolf to the point of making you do illegal things and ending up in prison. So be ambitious, very ambitious but don't become like a wolf!
Small epilogue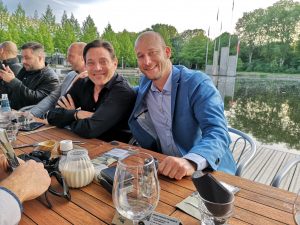 In the evening, we had the chance to go out for a dinner with Jordan and a small group of passionate salespeople. Jordan shared several funny and also very spicy anecdotes, that it is like we are in the film.
We laughed a lot and we also enjoyed this unique and privileged moment, but Jordan unfortunately left after barely an hour, like a wolf fleeing at nightfall, but he left us with lots of information and many anecdotes that will remain unforgettable in our memory.